As some of you know, I am not only a blogger and a wedding professional, I'm also a wedding gown model! Last weekend's runway show was Premier Bridal Show at The Hills Hotel in Laguna Hills, California. The venue was fantastic, but even more spectacular was the bridal fashion. This runway show had a Greek Goddess theme for hair and makeup and I wanted to share some additional inspiration with you!
What exactly does a Greek Goddess theme entail? The Greek Goddesses were and are still known for their power and beauty. Though they are part of mythology, they are considered some of the most beautiful women in the world. Because of this, a Greek Goddess theme ties in perfectly with bridal fashion. What bride wouldn't want to be considered the most beautiful woman in the world on her wedding day?
Hairstyles
Part of the look that creates a Greek Goddess aura is the hairstyle. Though the goddesses are associated with power, they are also symbols of gentle femininity. You can achieve this look with braids, curls, and loose waves, either on long hair or hair twisted into an updo.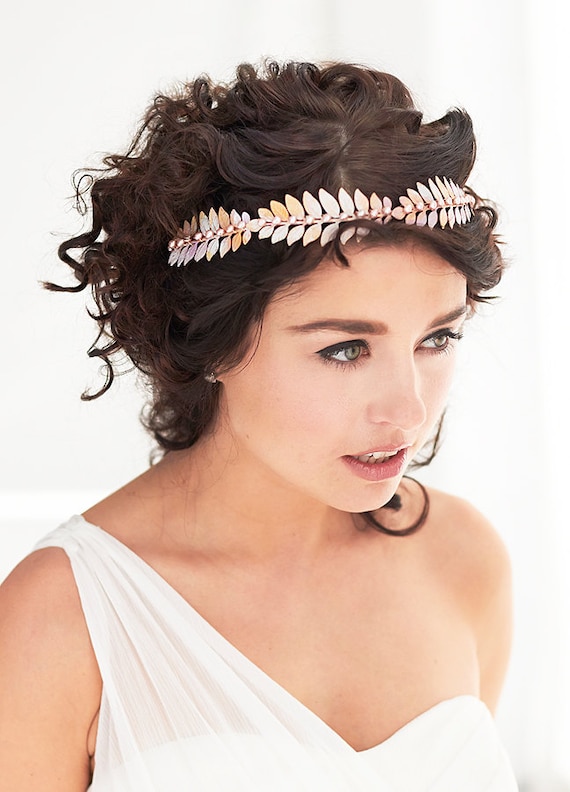 Get your glam on with a curly updo accessorized with a crown of brass leaves.  It's not only a simple look that will work with any dress or jewelery, it is also an easy hairstyle that won't take much time to create. Find the leaf crown on Etsy here.
Though this hairstyle was created originally with a Bohemian theme, this braided updo is perfect as the crowning accessory of your Greek Goddess wedding look. If you love this updo as much as I do, check out the tutorial for this style on Green Wedding Shoes.
This loose braided updo is similar to the look I had for this weekend's fashion show. Salon 5150 did a fantastic job on my hair (as always), and I love the hairpiece creatively woven in!
Hair by Nona Pitts of Salon 5150, Hairpiece from Mary Me Bridal.
 .
And for the last Greek Goddess hairstyle, here's a long, wavy style with loose french braids. Braids are best noticed with blonde hair, but even if you have dark hair, this style would still look great!
Makeup
Makeup for a Greek Goddess look is simple, yet dramatic. The focus is on the eyes, with additional attention to flawless skin. The smoky eye wasn't around back in the days of Greek Goddess legends, but if it was, you can be sure Aphrodite and Athena would rock it!
Koko of Special Koko posted her Goddess inspired wedding guest look. Whether you're a bride, bridesmaid, or guest, this makeup takes style and refinement to the max! The must haves to look like a Greek Goddess are a bronzed glow, dark and smoky eyes, false eyelashes, light blush, chiseled eyebrows, and a nude/light lip.
Jessica Harlow has a Greek Goddess makeup tutorial that couldn't be simpler! You can also highlight your eyes with a little bit of color, like metallics or a light blue dusting over your eyelids. Jessica's tutorial includes colored contacts, which are completely optional, but add something exotic to your finished look.
Fashion
Clothing for a Greek Goddess is essentially simple: it's always a long, flowing, ethereal, white dress. There's no better description than that for any girl's dream wedding gown!
Photo Credit: 35mm Wedding Photography
This stunning gown is called 'Amy' from Anna Campbell's 2013 Gossamer Collection. It's a perfect fit for any Greek Goddess bride with its beautiful femininity in the design and accents of silver around the waist and over the shoulders.
Rosa Clara delivers high fashion glamor with both of these gowns. Both feature a elegant and figure flattering shape as well as a simple and sophisticated metallic adornment in just the right places.
If designer gowns aren't in your budget, try checking out some prom dresses or white maxi dresses. They can be a low budget answer to stunning your guests (and your groom) on your wedding day.
A dress like this would be perfect for an informal or beach wedding. Plus, you can always wear it again after the big day. And for only $50, you really can't go wrong! You can buy this dress on Esther here.
This dazzling prom dress would make a beautiful wedding gown! At less than $160, you'll save thousands over a designer wedding dress and no one will be able to tell the difference. Have this dress custom made for you here.
Have you seen a common theme throughout the hairstyles, makeup, and fashion? It's the accessories! A white dress would be just too simple without a few embellishments of jewelery, belts, and headbands. Keep them all one metallic tone, either gold or silver. Your jewelery should be minimal, especially if your dress has an eye catching belt or you're wearing a headband. Remember, the Greek Goddess theme is all about showing off your beauty. The dress, makeup, and hairstyle only serve to highlight the beautiful woman you already are!