When most people think of  table centerpieces, images of all things floral come to mind. But for some weddings, flowers don't quite fit the occasion. If this non-floral tablescape style speaks to you, take a look at this beautiful and versatile bird's nest centerpiece.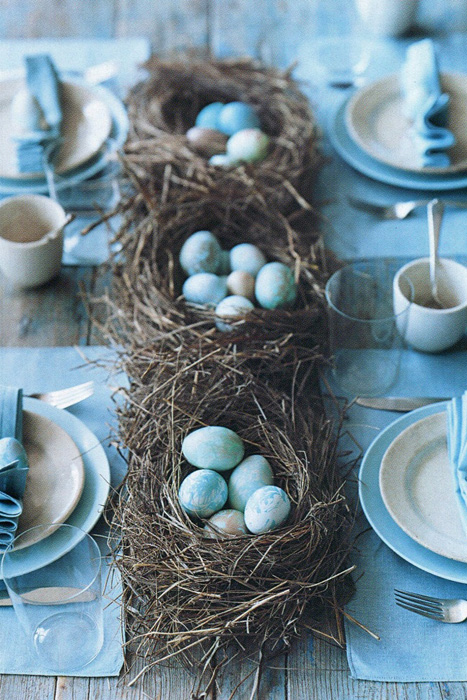 Dress it up or dress it down, these bird's nests can be customized exactly how you want them. The nests are store bought, like this one from Michael's, and the eggs are marbleized in any color of your choice. Arrange a single nest, a group of three nests in varying sizes and heights on a round table, or a row of them on a long table. With flowers or without, these will bring a touch of spring to your wedding. Even if your wedding isn't in spring, what better theme to start off your new marriage?
Baby blue and white look like they were made for each other, especially in this elegant centerpiece. But if blue and white aren't your colors, make these eggs to match other elements of your table or place setting. To DIY the eggs, you'll marbleize them by dying blown eggs with food coloring. Here's Martha Stewart's tutorial on How to Make Marbleized Easter Eggs just like the ones in the photo at the top. Martha's tutorial includes how to blow out raw eggs, but if you're not that adventurous, you can buy blown eggs on Etsy or on Efowl.com. You can use duck or chicken eggs, or if you don't want to dye the eggs, naturally colored eggs like these quail eggs on Etsy would work well also. Buying blown eggs will cost you a little more than if you do it yourself, but it can save you a big mess!
If you want to take this project to the next level, check out Steven and Chris' tutorial on these bird nests in a tree! They take a branch, anchor it into a urn, and decorate it with little birds, bird nests, and flowers.
Photo Credit: MarthaStewart.com
So if you want so save on flowers for your wedding, consider DIY-ing some bird's nests for your decoration. Whether your theme is spring or you're in love with birds, make these versatile birds nests with eggs in your wedding colors!
Find this cake topper here.
Happy wedding planning, lovebirds!