Why does the most gorgeous decorations at a wedding last the shortest amount of time? Flowers, no matter what bloom, will fade and wilt by the end of the night or at least by a few days after the wedding. If you're off on your honeymoon, who's going to enjoy your flowers before they wither away?
Here's the perfect solution: Paper Flowers!
On the practical side, you can use paper flowers anywhere you'd use real flowers. Origami flowers will save you money since you'll probably make fewer flowers than you'd buy from a florist. And at the end of your wedding, you'll be able to keep your paper flowers for years!
On the style side, origami flowers can be created in any color and pattern you want!  Dyeing real flowers unnatural colors is expensive and decorating your bouquet or arrangements will cost even more. But customizing your flowers in the paper texture and color of your preference and decorating your flowers with crystals, rhinestones, buttons, and pearls are relatively inexpensive. If you're leaning towards a eco-friendly wedding, these flowers compliment any up-cycled elements or themes.
Find premade bouquets like this on Etsy.
Plus, you can exercise the full extent of your creativity- don't limit yourself to mimicking real flowers in your designs!
Have this bouquet made in your custom colors here.
Other than bouquets, how else can you incorporate paper flowers in your wedding?
Invitations
Your invitations give the first impression of your wedding- make sure they set the tone of your occasion.
These laser cut formal invitations are to die for and completely customizable on B Wedding Invitations.
For a less formal wedding, specifically a shabby chic wedding, this style of invitation will set the mood for your big day. Find this invitation and others like it here on Etsy.
Ceremony and Reception Decor
Design by Dooby Design. Photo credit: Alli McWhinney Photography
Dial up the glam with a paper flower backdrop behind the sweetheart table. This style brings the outdoors inside with this wedding's black, white, and gold color scheme, but would look great with most other wedding colors. Can you image how pretty this would be in soft pastels?
Designed by Calder Clark Designs, Produced by Blossoms Events. Photo Credit: Harwell Photography
Check out this over the top ceremony set up! This combination of real florals, paper flowers, and chandeliers give this pink tent a romantic glow. See the rest of this glamorous wedding here.
French doors provide the picture-perfect touch for a country, vintage, or shabby chic wedding. Add to this charming style with some fun giant paper flowers! If you're worried about these flowers out in the elements, rest assured that they'll last through your wedding: they can be made in durable paper, plastic, material, or metal. Plus, you can rent them (13 included) for half the price! Find these flowers on Etsy here.
Photo Credit: Anushé Low.
This architecture inspired shoot by Always Andri Wedding Design featured geometric and origami elements such as paper cranes as well as paper flowers. Don't be afraid to combine out of the box themes, textures, and colors in your design: you'll end up with some gorgeous results!
More Flowers for the Bridal Party
I absolutely adore these crepe paper flowers! They are oversized and bright to add to a whimsical wedding. I helped coordinate an 'Up' themed wedding where the bride and bridesmaids each carried one of these flowers. Each table was set with two of them in a vase and the bar had one to coordinate with its colors.
Find out how to DIY your own giant paper roses here.
How about this sheet music flower for your groom or groomsmen? If you want a patterned print that's not cardstock or typical patterns, try making these flowers with pages of a book, a map, or, if you're incorporating a little geek in your wedding, a comic book.
Photo Credit: Dear Heart Photos
While you're at it, try combining paper flowers with real florals in your bouquet, such as this one with pages of a book and a succulent. See this wild outdoor wedding on Refinery 29.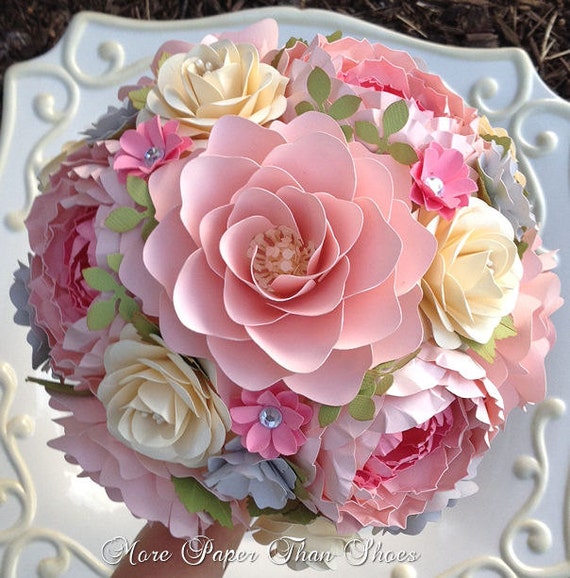 I've got to say, this is one of my favorite paper flower designs. These flowers look like real flowers you'd have in a bouquet, but the paper elements make it look out of the ordinary. Again, this design can be made in any colors and can be customized to your liking. See this and other paper bouquets by More Paper Than Shoes on Etsy.
Cakes
Cake by Stevi Aubl of Hey there, Cupcake!
And lastly, use paper flowers on a lovely cake like this! Though it may not be the kind of paper you'd use for the rest of your wedding, wafer paper can be shaped into flowers, often more realistic looking than other types of paper. To top it all off, wafer paper is edible!
These amazing flowers don't just give your wedding a whimsical feel and last much longer than real flowers, you can give them to guests as gifts or use them long after the wedding's over in your home. Get in on the up-cycling trend and get inspired for your own wedding. I hope you're now in love with paper flowers just like I am!